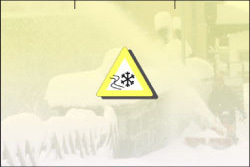 Gele waarschuwing voor sneeuw ijzel in België - West-Vlaanderen

Er wordt lokale gladheid verwacht. Ofwel door 1 t.e.m. 5 cm verse sneeuw in 6 uur, of 5 t.e.m. 10 cm verse sneeuw in 24 uur, of (zeer) lokale ijzel of (zeer) lokale rijm- of ijsplekken. Wees waakzaam.

Avertissement jaune de shute de neige verglas en Belgique - Flandre Occidentale

Nous prévoyons un sol localement glissant. Soit à cause de 1 à 5 cm de neige fraîche en 6 heures, ou 5 à 10 cm de neige fraîche en 24 heures, ou verglas (très) localisé ou plaques de givre ou de glace (très) localisées . Soyez vigilants.

Yellow warning for ice snow in Belgium - West Flanders

The ground may become slippery due to: 1 to 5 cm fresh snow in 6 hours, or 5 to 10 cm fresh snow in 24 hours, or (very) local black ice, or (very) local frost or ice patches. Be careful.

Gelbe Warnung fur Glätte in Belgien - Westflandern

Es wird Bodenglätte erwartet aufgrund von: 1 bis 5 cm Neuschnee in 6 Stunden, oder 5 bis 10 cm Neuschnee in 24 Stunden, oder (sehr) lokaler gefrierender Regen oder lokale Reifglätte oder Eisflächen. Seien Sie vorsichtig.